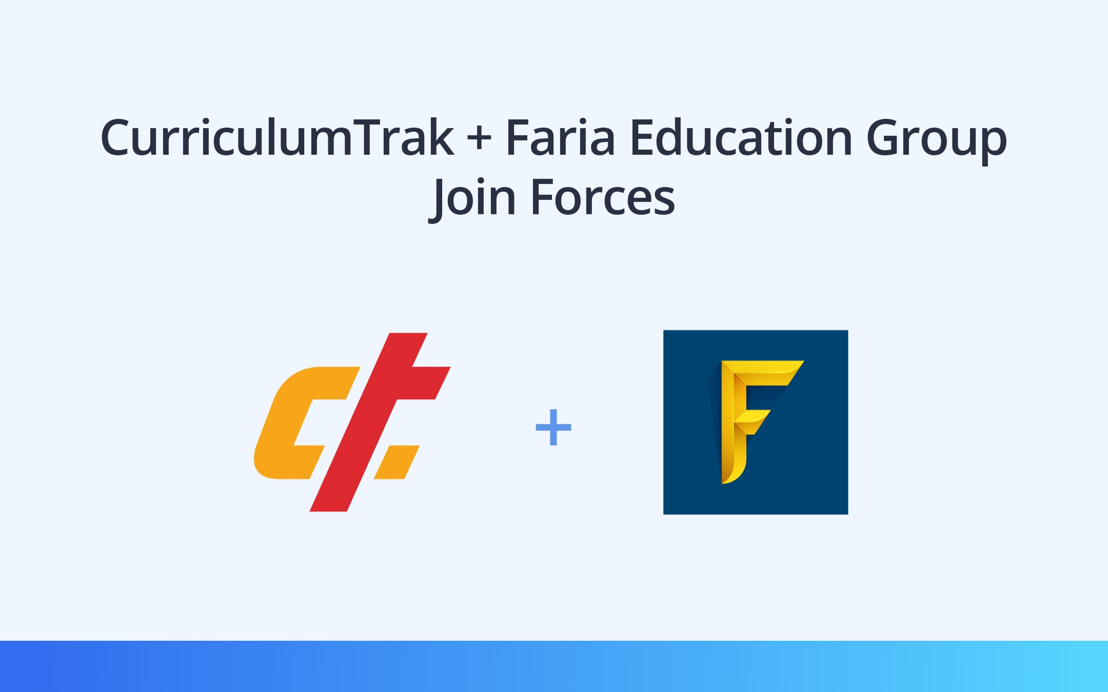 Curriculum Trak and Faria Education Group Join Forces to Better Serve Faith-Based Schools
Adding Curriculum Trak to Faria will provide an integrated platform offering curriculum management for over 1,700 faith-based schools
Friday, May 31, 2019 —

PORTLAND, Ore. — Faria Education Group Limited, a leading K-12 education technology company, through its wholly owned subsidiary ManageBac, has acquired Dynamic Internet Solutions (DIS), the provider of Curriculum Trak, a curriculum mapping tool for K-12 faith-based schools. Click to Tweet.

Faria's acquisition of Curriculum Trak is a continuation of both companies' commitment and dedication to provide an integrated curriculum-focused platform for educators and students at faith-based schools. Combined, Faria and DIS will serve over 1,700 faith-based schools with a learning management solution connecting faith-based curricular concepts to everyday learning.

"Curriculum Trak's roots run deep within faith-based education. We have been humbled and honored by the trust that this community has placed in us for over 16 years," said Mike Vander Berg, Managing Director of Curriculum Trak. "We are excited by this opportunity to combine our efforts with the resources and vision of Faria as the best way to even more effectively and quickly provide the additional tools and solutions Curriculum Trak schools have been seeking."

"We are excited to welcome Curriculum Trak schools to the Faria community, and we look forward to working with the Curriculum Trak team to deliver our next generation, curriculum-first learning platform to faith-based schools," said Kevin Piersialla, Chief Operating Officer of Faria Education Group.

Faria will continue to support schools already on the Curriculum Trak platform with no changes to the software service, its pricing, customer support, or the Curriculum Trak team. During the 2019-2020 academic year, Faria plans to enhance the Curriculum Trak platform with a host of strategic features.

"Curriculum is the foundation of every school and essential to teaching and learning," said Theodore King, CEO and co-founder of Faria Education Group. "We are grateful for the opportunity to serve Curriculum Trak schools and in the next academic year, we aim to elevate the Curriculum Trak platform while growing the community of faith-based schools working to connect mission to instruction."

In the next academic year, Faria will deliver an enhanced version of Curriculum Trak combining the powerful and easy-to-use curriculum planning functions that Curriculum Trak is known for, with the unique learning management (LMS) functions of ManageBac. This will include assessment and reporting, service learning, and project-based learning to offer schools a fully integrated, curriculum-first learning platform. Schools will have the option to continue to use the current Curriculum Trak platform or upgrade to the new version of Curriculum Trak with full control over timing.

The acquisition was financed from Faria's balance sheet and the combined group maintains a strong net cash position with zero bank debt. Barnes and Thornburg provided legal advice to Faria, and the Fieldman Law Group provided legal advice to Dynamic Internet Solutions.

About Faria Education Group
Faria was founded in 2006 to transition schools from paper onto a curriculum-focused learning platform. Today, Faria powers curriculum for over 10,000 schools and districts and 3 million students with a suite of three services: ManageBac, Faria's flagship product for curriculum planning, assessment, and reporting for IB World schools; OpenApply for paperless admissions from inquiry to enrollment; and Atlas for curriculum management, enabling schools to collaboratively plan, share, and analyze their curriculum. Faria's multi-disciplinary team of over 150 operates globally across eight offices. fariaedu.com

About Dynamic Internet Solutions
DIS provides the leading curriculum management platform for K-12 faith-based schools with its Curriculum Trak system. Curriculum Trak's unique Faith Learning Integration allows teachers to easily align key conceptual spiritual understandings with curriculum, lesson plans, and learning outcomes. Through Curriculum Trak, schools can join a larger network of faith-based schools to collaborate around faith-based teaching content and resources. Founded in 2003, Curriculum Trak services are used by more than 850 schools and districts. curriculumtrak.com

###

Tags: Faria, Dynamic Internet Solutions, K-12, curriculum support, curriculum, curriculum management, education, education technology, ed tech, international baccalaureate, learning management system, faith-based, curriculum mapping, curriculum design, faith-learning integration, lesson planning, service learning, project based learning

Tweet: @CurriculumTrak and @ManageBac join forces to create next gen curriculum-first learning platform for faith-based schools. #education #edtech #faithbased https://www.fariaedu.com/

Summary: Faria Education Group acquires Dynamic Internet Solutions, combining ManageBac and Curriculum Trak for over 1,700 faith-based schools.
Jennifer Harrison Pando Public Relations